What is SSL and why does your website need it?
SSL (Secure Sockets Layer) is the standard security technology for establishing an encrypted link between a web server and a browser. This link ensures that all data passed between the web server and browser remains private and useless to a hacker or third-party snooper. Websites with SSL are widely regarded as more trustworthy and secure, and Google ranks sites with SSL higher in search listings. Obviously, if your site accepts credit cards or transmits any type of personal data, SSL is a must-have technology to keep that data secure in transit. Think of SSL as a locked briefcase with important data inside. Except the "combination lock" on SSL is very, very long so that even powerful computers cannot crack it. Visitors to your website will know your site has SSL because the lock icon 🔒 appears in the address bar.
The SSL certificates from TriStar Web have the highest industry-standard strong file encryption along with a 30-day money-back guarantee.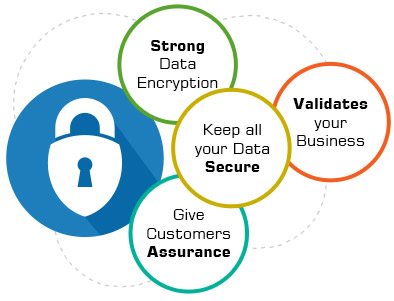 Your SSL certificate from Tristar Web includes:
256-Bit Encryption
The strongest encryption currently available. It's much stronger than the cheaper but less secure 128-bit certificates.
30 Days Guarantee
If there's anything wrong with your SSL installation, or you aren't happy with your new security for any reason, we'll buy your SSL back.
24x7 Real Human Support
Should you require help setting up your SSL (it usually takes less than 15 minutes) or need a hand "checking the locks" on your new secure site, the Tristar team is here to help.
Your SSL is made to work with our business-class web hosting:
Ultimate
Unlimited power to grow your business!
Unlimited storage
Unlimited bandwidth
Unlimited websites hosted
24/7/365 support
30 Days
Money Back Guarantee
30-Day
Free Trial
$

19.95

/ month
Compare All Hosting Plans