Check your Domain Availability...
Free Domain Manager
Live Demo - lock option, edit Whois, edit name servers, custom DNS records, URL redirection, etc.
COM Domain @ $12.50/year
Register your dot-com name with TriStar Web with the lowest-priced domain name registration available anywhere. Check our competitors; they may offer a cheap first-year price to lure you in and then - BOOM! - the renewal cost is much higher in year two. With Tristar Web your price stays low year after year. Much lower than GoDaddy or anyone else!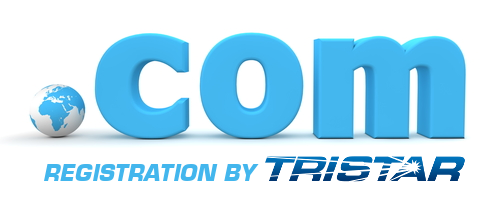 .COM Domain Names from TriStar Web
In 1985, .COM became one of the first commercially-available top-level domain suffixes, along with .NET (for communications companies), .ORG (for non-profits), .EDU (for schools and universities), and .INT (for international organizations like the UN). Bet you never heard of .INT before! Eventually .INT was eliminated. And who would want a .NET name anymore, either. Fact is, even with all the new domain suffixes out there now (like .XYZ, .CLUB, .INFO, etc) nothing says reliability like a .COM domain name.
If you are building a new online brand, we highly recommend you consider .COM as your first choice.
But what if my ideal brand name is taken? you ask. Let's suppose you decide to call your new company "knowledge farm". But you look online and - oops - knowledgefarm.com is already taken! Not by a real company operating a website there, but by a domain-squatting company. What will you do? Register knowledgefarm.io or some similar available-but-weird domain? We recommend against that. Our suggestion would be to register something like myknowledgefarm.com or perhaps getknowledgefarm.com. We say this because after over 20 years in website hosting, we have learned that .COM is so powerful in people's minds that the only alternative you should use is a geographic suffix if it applies (for example, knowledgefarm.co.uk if your customers are in the United Kingdom).
Why register your .COM at Tristar?
At TriStar Web, you can register a .COM domain at the lowest multi-year price, but you'll also get our free, easy-to-navigate Domain Manager interface to manage your domain. You will be able to edit its DNS records, to hide your WHOIS details (real personal name, address and phone number) from the public by using the ID protection feature, and more. And when you host your website with us, you get business-class unlimited web hosting and your domain name free for the first year. Our 99.9% uptime guarantee and 24x7 customer support beat anyone else in the industry.
But then again, that's no surprise. Because we've been hosting websites since before GoDaddy was a GoEmbryo!